Tin-Cure Silicone Rubbers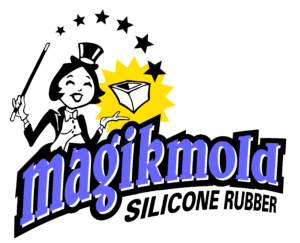 Magikmold® T-100 Tin-Cured (Condensation-Cured) Silicone Rubber Series is a high-performing line of room-temperature curing (RTV), two-part, tin-cure silicone rubbers designed for the manufacture of flexible molds. Raw Material Suppliers offers varying tin catalyst options for slow (standard), medium and fast cure speeds.
T-100 molds have excellent release properties and are suitable for casting a number of materials, including urethane plastic and rubber, wax, polyester casting resin, plaster, concrete, epoxy, soap, and some low melt metals. Compared to platinum-cured silicone rubbers, T-100 tin-cured silicones are less prone to cure inhibition, but shrink slightly on cure.
Magikmold® T-100 Tin Silicone Molds are widely used in: fine arts (e.g., bronze mold making), model making, architectural and historical restoration molds, themed environments & entertainment industries, candle & soap molds, and many more applications requiring flexible molds.
Select a product below for more details:
Tin (Condensation) Cure Silicone