Urethane Casting Resins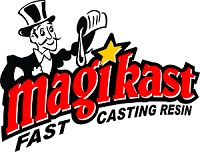 Magikast™ Fast Cast Resins are easy-to-use, room-temperature curing urethane resins that cure to rigid plastics. These two-part plastics have simple 1A:1B mix ratios by weight and are fast-setting for quick turnaround of parts. Magikast plastics are a popular option for numerous artistic, hobby and craft, industrial, commercial, prop and display applications.
Color options include white, black and clear.
Magikast Fast Cast Resins can be cast in Magikmold® Tin-Cured Silicone Rubber, Platinum-Cured Silicone Rubber & Platinum-Cured Silicone Putty molds without the use of release agent. With the proper release agent, they can also be cast in Magikmold Urethane Rubbers.
Select a product below for more details: