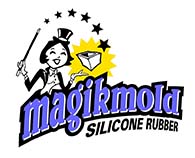 In recent times, silicone rubber has been touted as the ideal material for making long-lasting molds of fossils, important specimens and other rigid objects. While silicone rubber for mold making is similar to liquid latex that has the ability to provide a light, flexible, high-fidelity mold; it also has two added advantages. First, it is resistant to chemicals and decomposition, and second, it is more durable. With a winning combination of technical expertise and high quality products Raw Material Suppliers has all the essential things that you would require to make a silicone rubber mold in a shorter span than a latex mold. While silicone rubber is slightly more expensive than latex per pound the savings in labor and time make it a better value. Raw Material Suppliers ensures that you get it along with other mold making supplies at the most reasonable price.
Room Temperature Vulcanizing (RTV) silicone is the most common silicone compounds used for mold making. It is made from a two-component system: base plus curative (A+B). This silicone rubber compound, a combination of reactive oil base polymers and strengthening mineral fillers, is safe as long as it is used as per proper guidance. However, the curing agent or the catalyst could be toxic if ingested. It may also cause irritation to the eyes and skin.
At Raw Material Suppliers we offer Tin (Condensation) and Platinum (Addition) cure silicone mold making rubber, and guidance on how to use these products. Whether your need is for thin and pourable, thick and brush-able or for silicone putty, we offer the rubber you require to make an outstanding mold. We also offer a liquid thickener thixotropic additive, the best on the market, compatible with both types of rubber. This enables you to use the same rubber for thin pours as well as thicker brush-up needs. The RTV silicone rubber compounds (RV1-Tin Cure Silicone and RV2- Platinum Cure Silicone) that we offer are of a very high quality and pick up more details than you might have ever thought. These can give you very precise results, like taking a fingerprint off glass!
The tin cure silicone provided by us is suitable for use by amateurs as well as masters. It is usually used for individual projects, hobbies and small scale production. Tin cure silicone compounds are easy to use and cure against just about any substrate. Because it takes moisture from the air to complete the curing cycle, tin cure is also called condensation cure. It cures at room temperature, having minimal shrinkage and is terrific for many mold making applications including collectibles, soap molds, candle molds, bronze foundry molds to cast wax, architectural casting and urethane casting. It finds particular use in making silicone rubber molds for natural objects such as fossils. This is because they are typically of low viscosity and not inhibited by materials like sulphur and amines.
Platinum cure silicone can be used for the same applications as tin cure and for numerous other purposes. This compound is well suited to obtain outstanding precisions and molds at higher temperatures that have a long shelf life. Platinum cure silicone is ideal for concrete molds, higher temperature applications such as casting pewter and generating leads for jewelry and precision prototype parts. Food grade silicone rubber mold making is performed using platinum cure silicone. This is the same material that dentists put in the mouths of patients to get impressions of their gums and teeth. Platinum cure silicone does not use condensation to cure. It is a chemical A + B = C cure with no shrinkage. Heat only helps to accelerate the cure cycle. Raw Material Suppliers also offer platinum based silicone putty. This can be easily mixed by hand, and is used in a range of impression type mold applications.
Once you begin using our products, you will know why we have returning customers. Raw Material Suppliers is the best source for silicone mold making rubber with an all-inclusive line of products including 10:1 mix ratio as well as 1:1 mix ratio silicone casting rubber, a broad hardness range, thinners and thickeners and more. All these are provided at the best value along with the best service. You can call us to know more about our product range or simply order out silicone mold making rubber for your projects using the online purchase system. We will have quality products delivered to your door in a jiffy.