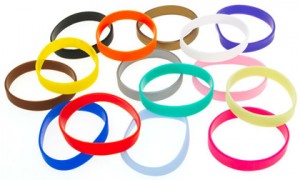 Printer Dan thought printing on silicone rubber wristbands with traditional inks would be child's play. He mixed his ink, applied the design to his parts and when the ink dried he had beautiful looking imprints on the part. Printer Dan packaged the customized silicone pieces and shipped them to his customers all over America. He appeared to have had done an excellent job and was very pleased. Then Printer Dan received a phone call from the first customer then he received a second call, a third call and then everyone was calling stating the ink was rubbing off, Massive failure! The ink rubbed off just from being touched; they couldn't even get them out of the box! He didn't know traditional printing ink used in his print shop does not stick to silicone. Printer Dan learned the hard way but you don't have to: "the only thing that really sticks to silicone is silicone." Simply stated this means use silicone ink to print on silicone parts. Specialized Print-On Silicone Ink™ uses a heat process to cause adhesion making it strong and durable. It may sound complicated, but it is easy.
Here's how it works:


Print-On Silicone Ink™ is weighed then mixed (Print-On Silicone Ink™ is 10 to 1 mix ratio – 10 parts ink to 10 parts drier; you have a 24 hour open time once the two components are mixed which can be extended by freezing the mix)
Apply ink to part (Pad print, Screen print, Spray, Brush, Dip. You can adjust the viscosity to suit with Print-On™ Thinner)
Heat cure for two -six minutes at 300-400F (250F for 5+ minutes works too)
Enjoy durable parts!
All you need to mix and use the inks are:
Gram scale
Mix cups
Mix sticks
Heat source (Anything from toaster oven, heat lamp, or conveyer oven, etc… just get it to temp for 2-6 minutes) Yes, it can go longer.
Print-On Silicone Ink™ is very safe to work with being of the same technology as the putty they put in your mouth at the dentist office. There are no dangerous fumes to be concerned with and don't worry about your part being able to take the heat either; most silicone rubber wristbands, swim-caps, cell phone covers and parts can take temperatures of 500F+ continually. If your part can't take the heat then it's not silicone and you're using the wrong ink!
Here's some of the features and benefits of Print-On Silicone Ink™ Printer Dan missed out on:
Robust adhesion – won't rub off easily (Automotive uses it for in car button marking so you know it lasts)
Colorfast – Ink comes in vibrant primary colors plus black, white, gold, gray and clear so you can add your own color

Water resistant
High gloss (clear coat available to create flat finish)
Flexibility; will stretch with your part i.e. swim cap
Excellent printability
Some of the items being printed with this ink are:
Wristbands
iPhone and iPad covers
Buttons for controllers
Swim caps
Silicone and smartphone keypads
Touchpad's

Silicone tubing
Oven mitts
Remote controls
Silicone pot holders
Any silicone promotional product
For more information, technical assistance and to see if Print-On Silicone Ink™ will work for your application go to http://rawmaterialsuppliers.com/print-on-silicone-rubber/  call 877-RTVMOLD(877-788-6653) now!